Message Frrom the Director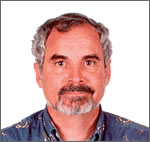 Welcome to WERI's new Web site. It has been a long time coming. Two major typhoons slowed our progress, but we finally have every thing in place to make it happen. I would like to thank the staff at iCON for their work at redesigning the new site and porting over the old web site to the new format. I think you will see definite improvements in their positive and professional approach to the design. I would also like to thank the Department of Interior, U.S. Geological Survey for funding support for this web renovation project through the National Institutes for Water Resources program. As usual we are indebted to the University of Guam and the people of Guam for their continued support of the water research programs at WERI.
I am particularly excited about one aspect of this Web project. This sub project will bring all of WERI's Technical Reports into pdf format for direct viewing or retrieval from the Web site. You will also be able to search a technical reports data base by title, author and keyword to retrieve the technical report that covers the topic in which you are interested. This project should be completed in the near future. I hope you will be able to take advantage of this new resource when it becomes avalailble.
Lastly, as you are browsing our site if you have comments or suggestions for improvement please feel free to contact me at [email protected].
Thanks again for your interest in WERI and the University of Guam.